Joining instructions

We can't wait to welcome you to the International Festival of Neuroscience taking place at The Brighton Centre on 23-26 April!
Please see the below for information that will be useful for all Festival-goers attending the event. There's also lots more information on this Festival website, from the full programme to our children policy. If you still can't find what you're looking for, please contact the team at [email protected].
---
Venue and directions:
The Brighton Centre (Kings Road, Brighton, BN1 2GR) is very easily accessible via public transport, just a short walking distance from Brighton Mainline Railway Station, Pool Valley Coach Station and bus stops and taxi ranks. See more information on getting to the venue.
Registration:
Just come to the front entrance of the Brighton Centre to find the reg desk. If you are arriving in Brighton at the weekend make sure you take advantage of early registration available on Saturday to avoid the crowds on Sunday morning!
In the interest of security please keep your badge with you at all times during the Festival.
Saturday 22nd April | 17:00 – 19:00 (badge collection only)
Sunday 23rd April | 09:00 - 20:00
Monday 24th April | 08:00 – 19:30
Tuesday 25th April | 08:00 – 19:30
Wednesday 26th April | 08:00 – 13:00
Event app
Make sure you log in to the Festival App so that you start creating your own agenda, identifying posters, setting up meetings and much more. You can use the app by downloading on to your mobile device, and can also use the desktop version.
For mobile devices: follow steps and see screenshots below -
Search for and install 'Swapcard' from your app store
On opening the Swapcard app, click on 'Log In'
Enter the email address with which you registered
Set up a password (or, if you've used Swapcard previously, use the password that you've already set up)
You will see 'Outsourced Events' with 'International BNA2023 Festival of Neuroscience' listed underneath
Click on the 'International BNA2023 Festival of Neuroscience' to start using the app!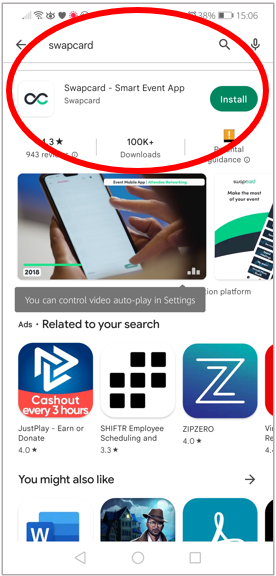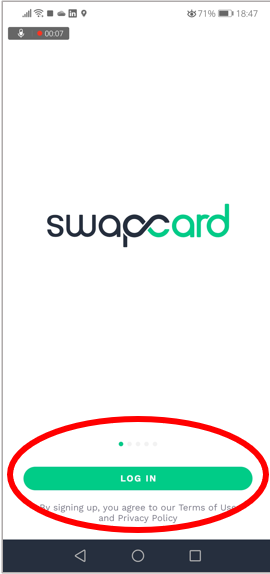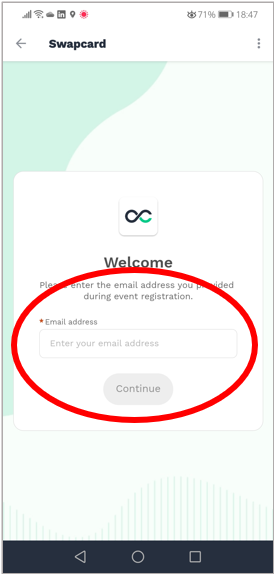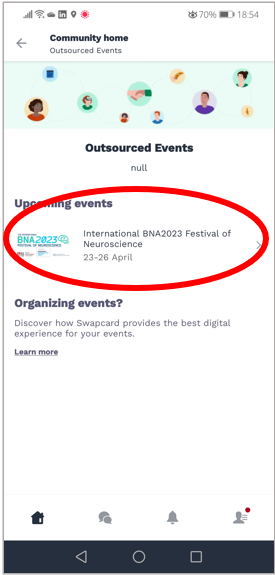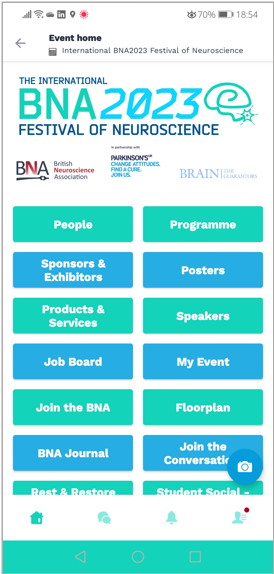 For desktop:
Go to the Swapcard login page
Enter the email address with which you registered
Set up a password (or, if you've used Swapcard previously, use the password that you've already set up)
You will see a page showing 'Outsourced Events' and the 'International BNA2023 Festival of Neuroscience'
Click on 'International BNA2023 Festival of Neuroscience' to enter the Festival platform
If you have any issues accessing Swapcard please email [email protected] or come and talk to a member of the team at our registration desk.
Slack
Have you discovered the BNA Slack channels yet? An exclusive network for BNA members, this is where you can make contacts, ask questions, arrange to meet up and more. Unlike the app, this will keep going well beyond the Festival! Make sure you don't miss out on the conversation by checking your BNA slack channels now (if you're not sure how to access, email [email protected]).
Food and drink
Free tea and coffee will be served during the morning and afternoon breaks. There are four different cafes onsite providing a wide selection of food and lunch options to purchase, or you are welcome to bring your own.
If you have purchased vouchers, please collect from the registration desk.
Water refills are available on request at all the food outlets or via dispensers: please bring your own bottle (or use paper cups provided).
Continuing Professional Development (CPD)
We are delighted that the Festival has been accredited by the Federation of the Royal Colleges of Physicians in the UK. Delegates can earn up to 30 category 1 (external) CPD credits by attending the full conference. Please click the 'CPD Certificate' button on our event app to gain your certificate of attendance after the festival.
Extra Curricular Activities
We're excited to have a wide range of additional activities for you to enjoy alongside the main programme. Here are just a selection!
Rest and Restore Room – take a moment to pause and refocus with COMPASS Pathways
Silent symposia – As a first for the Festival, there will be a silent symposium theatre space in the exhibition hall (think silent disco but with more discussion and less dancing!)
CV Speed-Clinic - bring a copy of your CV to the career zone, on paper or your device, and get instant feedback from experts in academic and non-academic sectors
Beach clean with Scientifica – Grab some fresh air and do your bit for the environment
Pier Review – Roll up, roll up, and win more than a little change! A cornucopia of seaside entertainments await you in our policy and advocacy zone.
Colouring competition – To avoid single-use plastic wrap and facilitate engagement with the Brighton community, our front windows are decorated with colouring competition entries by local children. Vote for your favourite via the app
Brain bus: One of the many activities in the Festival's public programme is the Sussex Brain Bus! Hop aboard when it visits the Brighton Centre on Mon and Tues lunchtimes.
Evening Social for students and Early Career Researchers (click to book) Just £22.50 for a fun and friendly evening of entertainment, food and drink on Brighton Palace Pier!
Further information
Safer Spaces: All participants must be familiar with and follow the BNA's Safer Spaces policy, and make the Festival a respectful, harassment-free and inclusive environment for everyone involved.
Photography and video policy: Rules on what you can and cannot photograph/record.
Wifi: Free wifi will be available – details will be on your badge.
Festival dress code: There is no specific dress code.
Accessibility: The Brighton Centre is very inclusive and happy to support any accessibility needs. Please see the Brighton Centre statement and further details of how to contact them.
Cloakroom: This is free to use and will be open throughout the Festival.
Social media: Please join the conversation by using #BNA2023
Health & Safety: For any medical issues please go to the registration desk.
Accommodation: If you haven't yet booked, check here for preferential rates.
Special offers courtesy of Visit Brighton available to Festival go-ers from local Brighton businesses.
---
THANK YOU TO OUR SUPPORTERS: The Festival would not happen without the generous support of our speakers, poster presenters, sponsors, partnering organisations and you – our Festival-goers - for which we are eternally grateful.
On behalf of the British Neuroscience Association in partnership with Parkinson's UK, and with special partner the Guarantors of Brain, and the support of our major sponsors: Miltenyi Biotec; Scientifica; COMPASS Pathways; lifearc; Akrivia Health; Bio-techne; Discovery Park; DeepMind; Sage Publishing.