Film night!
Exclusive screening of 'Inside Out'
Meet the little voices inside your head
18:30 BST | Tuesday 13th April
Running time 1h 42m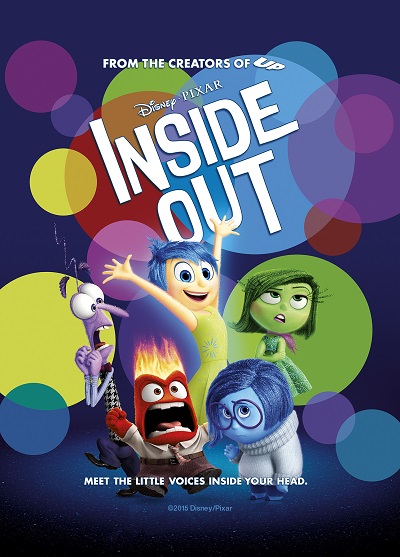 Inside Out © 2015 Disney / Pixar. All Rights Reserved
We're excited to invite Festival-goers to this exclusive screening of 'Inside Out' as a way to relax and continue enjoying the neuroscience.
For this special viewing, exclusively for BNA2021 Festival-goers, you can sit down with the family and enjoy this wonderful film, and you can also live chat with other delegates and share your thoughts about the science - or the film - or both!
Once you have registered you will be able to view the film from a monitor or laptop, and you will also be able to participate in the discussion either on the same device or a mobile phone. (NB you cannot watch the film itself on mobile).
Please note that you cannot pause or play later! The film will start at 18:30 and keep running (just like cinema).
---
Why 'Inside Out'?
The family film Inside Out is set in the mind of a young girl named Riley, where five personified emotions - Joy, Sadness, Anger, Fear, and Disgust - try to guide her as she adusts to life in a new city.
The film's producers consulted numerous psychologists including Dacher Keltner from the University of California, Berkeley, who helped revise the story by emphasizing the neuropsychological findings that human emotions affect interpersonal relationships and can be significantly moderated by them. (See "The Science of 'Inside Out'" by Dachner Keltner, and Paul Ekman in The New York Times, July 3, 2015).
What do you think? Did the producers get it right?! Has anything changed in our understanding of personality and relationships since 2015?
Watch the film and chat with other Festival-goers to find out their thoughts too.
---
How to register
Please register on the BNA2021 platform.
Places are limited to 200.
First-come, first-served!
Due to licensing conditions, unfortunately we are only able to offer places to delegates based in the UK or Ireland.
Please note that you cannot pause or play later! The film will start at 18:30 and keep running (just like cinema). We recommend you log in early to test everything is running so you don't miss the start.
If you register and can then no longer attend, please let us know (email

[email protected]

) so that we can offer your place to someone else, and avoid places going to waste. Thank you!