Confirmed supporters

---
We are delighted to announce and grateful to the following organsiations, who are helping to support the BNA2021 Festival of Neuroscience.
---
Annual supporters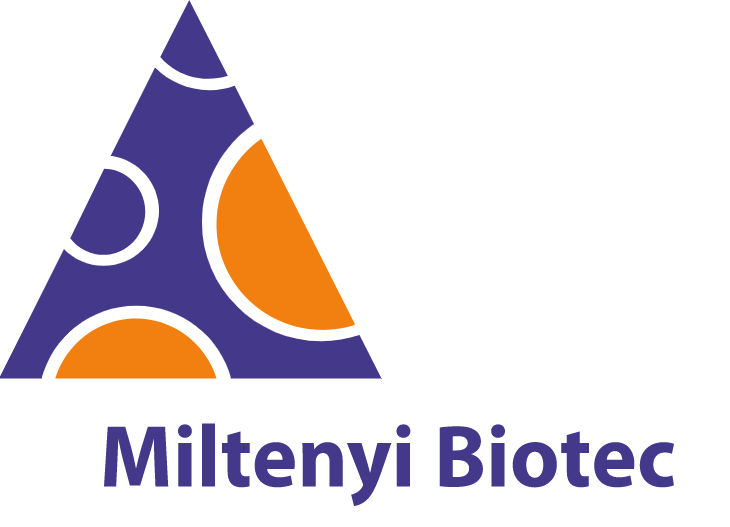 Look out for the Miltenyi Biotec round-table at the Festival! 14:00 - 14:40 BST on Thursday 15th April.
Miltenyi Biotec is a global provider of products and services that advance biomedical research and cellular therapy. Our innovative tools support research at every level, from basic research to translational research to clinical application. This integrated portfolio enables scientists and clinicians to obtain, analyze, and utilize the cell. Our technologies cover techniques of sample preparation, cell isolation, cell sorting, flow cytometry, cell culture, molecular analysis, and preclinical imaging.
Our 30 years of expertise spans research areas including immunology, stem cell biology, neuroscience, and cancer, and clinical research areas like hematology, graft engineering, and apheresis. In our commitment to the scientific community, we also offer comprehensive scientific support, consultation, and expert training. Today, Miltenyi Biotec has 2,500 employees in 28 countries – all dedicated to helping researchers and clinicians around the world make a greater impact on science and health.

Scientifica specialises in providing cutting-edge equipment optimised for electrophysiology, multiphoton imaging and optogenetics research. This, along with our friendly, helpful and knowledgeable staff, empowers researchers to overcome experimental hurdles and achieve breakthroughs in neuroscience.
Our world-class laboratory equipment allows researchers to gain a better understanding of the nervous system and neurological diseases such as Alzheimer's, Parkinson's and epilepsy.
From the UK, we manufacture and distribute high-quality instruments to universities, pharmaceutical companies and research laboratories to more than 40 countries worldwide. At the beginning of 2016, Scientifica opened an office in the United States, its first office outside of the UK. The new office, based in New Jersey, will improve our ability to support our growing number of customers in North America.
We also have a number of selected local distributors in countries around the world.
What we do:
Electrophysiology
Scientifica, in collaboration with world-class researchers, has developed our own range of pioneering instruments for electrophysiology studies, including microscopes, cameras, micromanipulators and stages. To complement these products, we also sell equipment from well-known suppliers to provide a single source for all your electrophysiology needs. Suppliers include CoolLed, Molecular Devices, Multi Channel Systems, Nikon, npi electronic, Olympus and TMC.
Multiphoton Imaging
Scientifica's award-winning multiphoton imaging systems enable researchers to harness a powerful technique for visualising structures deep within thick tissues. They accommodate a broad range of experimental needs and parameters for excellent image quality and data collection both in vitro and in vivo.
Optogenetics & Uncaging
The emerging field of optogenetics promises an exciting future for neuroscience and electrophysiology research along with the targeted application of drugs thanks to uncaging. Scientifica's offerings in this area are quickly evolving, and our state-of-the-art LASU system enables laser applied photostimulation experiments at multiple wavelengths.

Atlas Antibodies (three month subscription)
Atlas Antibodies enables leading neuroscience research worldwide through manufacturing and supplying highly validated primary antibodies targeting all human proteins. Based in Sweden and with our roots in the Human Protein Atlas Project, our extensive portfolio of reagents includes over 21,000 antibodies and protein standards for targeted proteomics. Our neuroscience antibodies show high specificity and selectivity for their target proteins and are tailored for use in research on signaling, neural lineage, developmental processes, aging and neurodegenerative disorders in human and rodent tissue samples. A full catalogue of our antibodies is available on our website.
Festival supporters
Bio-Techne® unites some of the most referenced brands in Life Sciences: R&D Systems®, Novus Biologicals®, Tocris Bioscience ®, ProteinSimple® and Advanced Cell Diagnostics®. Our family of brands collaborate to provide over 350,000 products for Life Science research with over 300,000 journal citations, showing that our combined experience is trusted by researchers.

We continue to empower the Neuroscience community by providing the high-quality reagents, services and innovative instruments that they need to further their research, including:

RNA (ISH) - Advanced Cell Diagnostics (ACD) provides products and services based on its advanced in situ hybridization (ISH) assay RNAscope® Technology, capable of visualising genes expressed at a single-molecule RNA sensitivity, localising and quantifying the level of expression.
Proteins - R&D Systems provides over 4900 recombinant and natural proteins spanning many species. Providing GMP-grade, animal free, custom services and biomarker screening services.
ELISAs and Luminex® assays - Our Quantikine® and DuoSet® ELISA kits are the gold standard. We are experts in bead-based multiplex assays, providing high performance assays, MAGPIX® System, Luminex® 200® and FLEXMAP 3D®.
Protein analysis platforms - ProteinSimple instruments for Simple PlexTM assays, Simple WesternTM assays, Single-Cell Westerns, next generation analytical and iCETM platforms
Antibodies - Over 200,000 antibody products from Novus Biologicals and R&D Systems in multiple conjugates and species. Custom antibody generation, testing, purification and conjugation services.
Small molecules - High quality, high purity and fully annotated novel small molecules and peptides.

We are passionate about scientific discovery, which drives us to manufacture high-quality reagents and award-winning tools for the Life Science and Clinical Diagnostic markets. We understand our customers and we really care about their research. To ensure researcher's experiments are successful, we provide the reliable high-performance innovative solutions they require for scientific discovery.

Brain Electrophysiology Laboratory  Company (BEL)

BEL is dedicated to advancing neuroscience by creating products with new technologies and the highest quality standards. BEL offers complete EEG systems, software and tools for open-source collaboration. All BEL products are developed under BEL's Quality System, meeting regulatory standards to assure the highest standards for safety and accuracy.

Pharmidex is a contract research organisation (CRO) that provides translational solutions using its world renowned expertise in CNS/oncology/respiratory, DMPK, drug discovery and ADMET/pharmacokinetics. Founded in the UK in 2002, Pharmidex operates in state-of-the-art facilities in London and Hatfield to provide high-quality bespoke experimental data to support drug discovery and development.

Stratech supply specialist life science reagents for researchers who need consistent, reproducible results. We have built a reputation over the last 35 years for supplying high quality, competitively priced, reliable products such as the Jackson ImmunoResearch Secondary Antibodies. As a family run business, we are dedicated to delivering exceptional product quality with unbeatable technical support and customer service.

We are so confident that you will LOVE both our products and our support services, that we guarantee all our products with a full money back promise. In addition, if you can't find what you are looking for, one of our experts will find it for you.
The Royal Society is the independent scientific academy of the UK and is a self-governing Fellowship of many of the world's most distinguished scientists. Its fundamental purpose, reflected in its founding Charters of the 1660s, is to recognise, promote, and support excellence in science and to encourage the development and use of science for the benefit of humanity.

Our journals Proceedings B, Biology Letters, Royal Society Open Science, Open Biology and Philosophical Transactions B welcome submissions of research, reviews and theme issue proposals in all areas of neuroscience. We offer authors high quality peer review by active scientists, exceptional author service, open access options and wide dissemination to an international audience. We support open science principles such as open data, Registered Reports, replication studies and preprint deposit.

Please browse our exhibition area to find out more about our journals and why you should consider publishing your next paper with us. We have also provided flyers and links to some of our published content that you might find interesting. Please contact us via the chat function or send us an email to ask any further questions.

Transpharmation is a preclinical CRO led by scientists. Building on the founders' international reputation and CNS drug discovery expertise, Transpharmation's global client base benefit from decades of experience in preclinical translational neuroscience, including pain & inflammation, EEG, cognition, epilepsy, neurodegeneration, and anxiety/mood disorders, together with a biomarker platform.

Zogenix is a global biopharmaceutical company committed to developing and commercialising therapies with the potential to transform the lives of rare disease patients and their families. Our headquarters are in the United States and we have additional operations in Europe and Japan.
We strive to make a difference for patients by taking on the complex challenge of identifying promising investigational therapies and taking them through a rigorous developmental process – especially in disease areas with severe impact and limited or no treatment options.
Our current focus includes debilitating and potentially life-threatening developmental epileptic encephalopathies such as Dravet syndrome, a devastating and life-long rare epilepsy that begins in infancy. Dravet syndrome is marked by frequent, treatment-resistant seizures, significant developmental, motor, and behavioral impairments, and an increased risk of sudden unexpected death in epilepsy. Most patients follow a course of developmental delay with cognitive, motor, and behavioral deficits that persist into adulthood. Dravet syndrome severely impacts quality of life for patients, families, and caregivers due to the high physical, emotional, and financial burden associated with the disease.
We are also focused on a mitochondrial disease called TK2 deficiency (TK2d), a genetic disorder that leads to inadequate energy production in cells throughout the body. TK2d presents as severe and progressive muscle weakness that profoundly impairs movement, breathing, eating, and other normal functions, and is often fatal. There are currently no approved therapies for this disease.
At Zogenix, our passion is to rewrite the future of rare disease treatments and outcomes. We are proud to collaborate with and support physicians, patient communities, and others around the world who share this goal. Together, we can bring hope and support to patients and families impacted by rare diseases.
We warmly invite your organisation to join us at the BNA2021 Festival of Neuroscience. Please contact [email protected].