The 2019 Wolstencroft Lecture
Professor Suzana Herculano-Houzel, Vanderbilt University, USA
What good are more cortical neurons? Live longer and do more!
---

Sponsored by Novartis
---
8:30 - 9:30​, Wednesday 17th April - The CCD Auditorium
---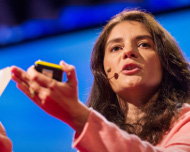 Suzana Herculano-Houzel's main field of work is comparative neuroanatomy; her findings include a method of counting of neurons of human and other animals' brains and the relation between the cerebral cortex area and thickness and number of cortical folds.
Suzana is interested in comparative neuroanatomy, cellular composition of brains, brain morphology, brain evolution, metabolic cost of body and brain, sleep requirement across species, feeding time, and really interested in how all of these are tied together.
Suzana writes about neuroscience and science in general for the public; recently published The Human Advantage: A New Understanding of How Our Brain Became Remarkable (MIT Press, 2016) and has given a TED talk on how the human brain compares to others and how it came to have the largest number of cortical neurons of any brain. This can be seen on Suzana's website (below).
See Suzana Herculano-Houzel's website.
---
The Wolstencroft Lecture
The Wolstencroft Lecture is held in memory of John Wolstencroft, President of the BNA from 1978 to 1981, following his untimely death in 1983. This biennial lecture was set up to share the most exciting advances in neuroscience with a wide community of brain scientists and others in related disciplines. Previous lectures have been given by Allan Basbaum, Pierre Magistretti, Nancy Rothwell and May-Britt Moser.
This year we also remember John Coote, who died in November 2017 at the age of 81. John chaired the Board of Advisors for the Wolstencroft fund for many years, and worked hard to ensure continuation of the lectures.