The NSI and the Brain Prize Lecture
Professor Ray Dolan, Wellcome Trust Centre for Neuroimaging, UK
Decisions, uncertainty and rewards
The

Neuroscience Ireland Plenary Lecture


and the

Brain Prize Opening Lecture
18:20-19:20​, Sunday 14th April - The CCD Auditorium
---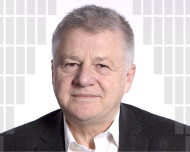 Ray Dolan's research addresses the neurobiology of emotion and decision making, how emotion impacts on cognition and its aberrant expression in disease.
Using insights from this work he addresses how processing of reward and punishment breaks down in the context of psychiatric disorder. He uses a range of research approaches including functional neuroimaging, computational analysis of behaviour and psychopharmacological manipulations.
He has published over 500 peer reviewed papers is among the most cited scientist in the world in the field of Neuroscience and Behaviour.
Ray holds the Mary Kinross Professor of Neuropsychiatry and is Director of the Wellcome Trust Centre for Neuroimaging, at UCL. He has enjoyed continuous research support from the Wellcome Trust since 1989.
---
Prof Dolan is the recipient of the 2019 Neuroscience Ireland "Tom Connor Distinguished Investigator Award". This award, named for NSI colleague and former President who passed away at a young age in 2013, is awarded to Irish neuroscientists who have made an outstanding international contribution to neuroscience research.
Ray will be presented with his award at the Festival in Dublin in April 2019, where he will also give the Opening Plenary Lecture in advance of the welcome reception.
---
In 2017 Ray Dolan - along with his colleagues Wolfram Schultz and Peter Dayan - was awarded The Brain Prize for his research into decision-making.
This prestigious award, given by The Lundbeck Foundation, is an annual 1 mio. € personal research prize. It is awarded to, "scientists who have distinguished themselves by an outstanding contribution to neuroscience and who are still active in research".
We are delighted to be hosting one of The Brain Prize winners at the Festival, and we are grateful to support from The Lundbeck Foundation for the event.