Essi Viding
Professor Essi Viding, University College London, UK
Why do some people become psychopaths?
8:30 - 9:30​, Monday 15th April - The CCD Auditorium
---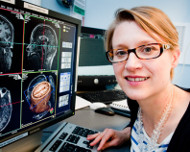 Essi Viding is Professor of Developmental Psychopathology at University College London in the Faculty of Brain Sciences, where she co-directs the Developmental Risk and Resilience Unit, and an associate of King's College London's Institute of Psychiatry.
Essi researches persistent antisocial behaviour and development disorders using cognitive experimental measures, brain imaging and genotyping. Her research focuses on investigating different developmental pathways to persistent antisocial behaviour, as well as the neurocognitive consequences of childhood maltreatment. Her group collaborates with researchers within and outside UCL, including colleagues at the Yale Child Study Center, where Essi holds an adjunct appointment.